THE CTP

Structuring of Materials
Structuring of Materials
General informations
The
Structuring of Materials
team can assist you with many issues relating to the use of cellulosic fibres in traditional papermaking and for the development of new cellulosic materials.
With regard to paper and board manufacturing:
The effect of different types of fibres/mineral fillers/additives on the properties of paper and board
Fibre refining by compression
Fibre functionalisation
Interactions and compatibility between different additives at the wet end (sizing agents, retention, drainage, dry/wet strengthening agents, etc.)
Flocculation and sheet formation issues
Impact of circuit closure on deposition/air/foam issues, runnability and paper/board quality
Structure/properties relations for single- and multi-layer paper and board
Modelling/simulation to define grammage reduction strategies
With regard to new cellulosic materials, the team can assist with the formulation and development of:
3D cellulosic materials: deformable paper/board, objects made of moulded cellulose (single pilot facility)
cellulosic foams and films
objects obtained by regenerating dissolved cellulose
To assist you with these issues, the team uses traditional papermaking equipment but also equipment from developing innovative sectors (tensiometers, image analysis, Foamscan, 3D printers, etc.). The Structuring of Materials team will be pleased to answer your queries and assist you with the treatment and preparation of all types of cellulosic material depending on the properties you require. Do not hesitate to contact us!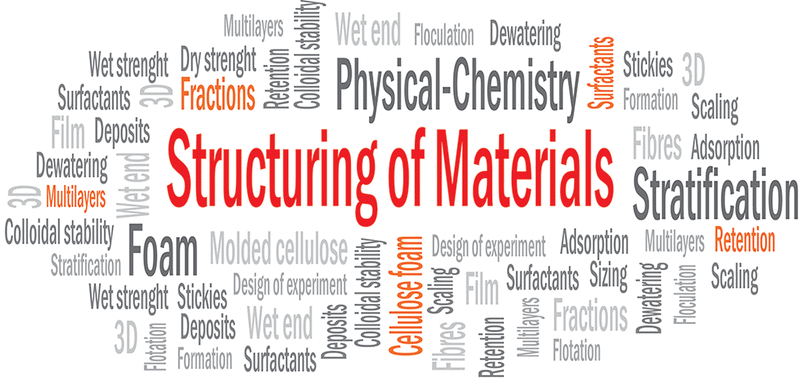 Key figures
3 project managers
4 technicians
5 semi-industrial pilots
---