THE CTP

Our networks
Our networks
The CTP at the heart of the networks!
With one foot in research and the other in industry, the CTP lies at the heart of the innovation networks. From fundamental research laboratories to professional organisations in its fields of excellence (pulp, paper, board, packaging and printed materials) the CTP is a true channel for innovation in France and internationally. A bridge between industry and R&D, it truly fulfils its role as a driver of industrial innovation.
The CTP: the "Paper and Board" link in the industrial chain of CTIs
The CTP is one of the 14 Technical Industrial Centres spread across France. It applies its expertise and dedicates its technological facilities to paper and board companies and all the players in the sector, in order to remain in tune with its industry's national strategy through a set of clear objectives shared with the other CTIs: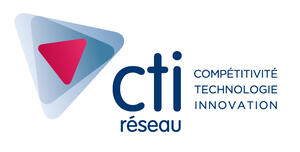 SPEEDING UP THE TRANSFORMATION TO THE INDUSTRY OF THE FUTURE
DECARBONISING PROCESSES AND PRODUCTS AS PART OF A SUSTAINABLE TRANSFORMATION APPROACH
MASTERING THE FUNDAMENTALS OF THE CIRCULAR ECONOMY
SPEEDING UP THE DIGITAL TRANSFORMATION
DEVELOPING SKILLS AND PROFESSIONS
The CTP teams up with CITEA once again
A partnership has been signed between the CTP and CITEO, the producer responsibility organisa-tion for household packaging and printing paper, in order to launch an ambitious innovation pro-gramme responding to social demand for reduced environmental impacts, and to promote the use of products made of natural materials. At the core of this programme: the eco-design of products from a single material that is bio-based, renewable and recyclable. On the strength of the successes achieved since 2018 - including a prototype polyethylene film-free cup and a paper-based mailing wrapper for news-papers and magazines - CITEO and the CTP are pre-paring a new partnership for the period 2023-2028, in order to speed up the way to market for innovations deve-loped by the CTP.
"Innovation is always more meaningful when it is shared.
We are joining forces with the CTP to speed up the transition
to a circular and competitive economy at national and European level."